Who Is Fahad Ahmad? Meet Swara Bhasker Husband marries political activist
The wedding season is going on and we are constantly hearing wedding bells all over the world. Many celebrity couples are beginning a new chapter of their lives after getting married and their fans are quite happy for them. Recently the Bollywood actress Kiara Advani got hatched to actor Sidharth Malhotra and their wedding photos are making rounds all over the web. Not only their wedding videos or photos but their reception videos are also getting viral. Now in the amid of this another actress has tied the wedding knot to her love and her wedding photos are trending on Twitter and other social media platforms as well.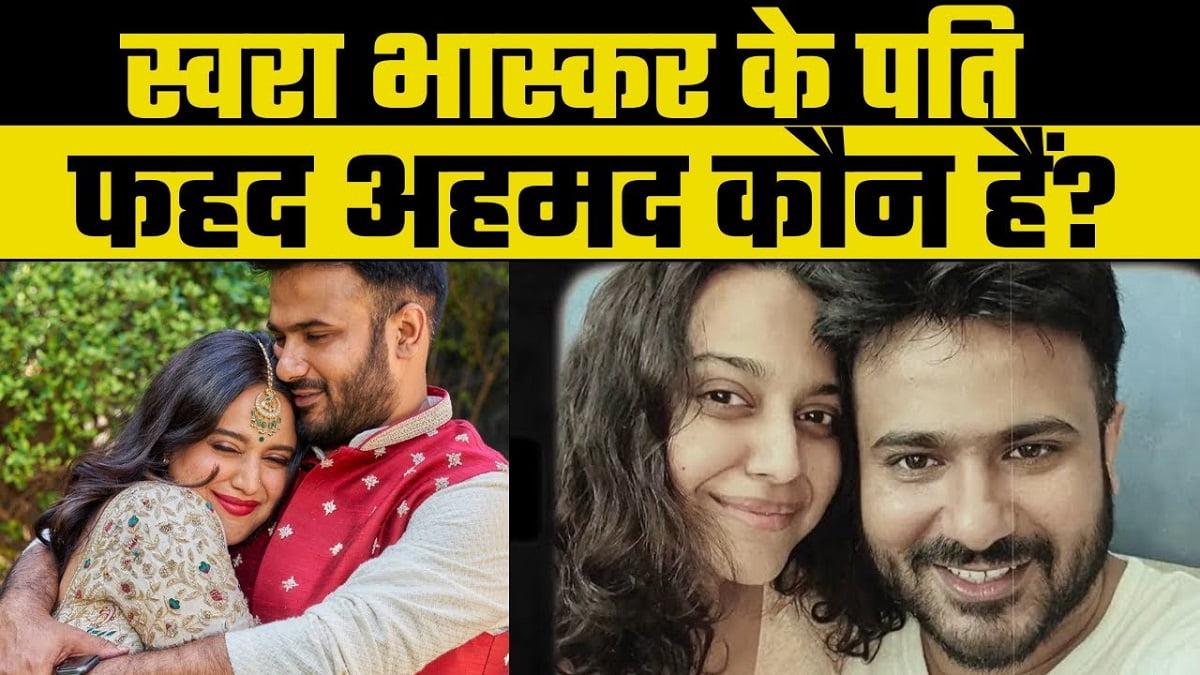 Who Is Fahad Ahmad?
Yes, you are thinking right, we are talking about actress Swara Bhaskar whose wedding photos are now posted on social media and her fans are quite shocked and happy as well. Everyone wants to know the name of her husband and other details of her wedding. Swara Bhaskar is popularly known for her strong political opinion and for that she also faces backlash. But now this time, she is making the headlines of the news due to her wedding photos and people are desperate to know with whom she exchanges the marriage vows.
कल तक भाई थे…. आज पति हो गए !!

स्वरा भास्कर ने आज जिस से शादी की है …..कल तक वो स्वरा के भाई हुआ करते थे !! pic.twitter.com/FxEUbJDGaF

— Ambuj Bharadwaj (@Ambuj_IND) February 16, 2023
The Husband Of Swara Bhasker
Most of the fans of Swara are currently thinking about her husband. Now according to the reports, the Bollywood actress has chosen a political figure as her life partner and she got hatched to Fahad Ahmad. Unlike Swara, Ahmad is a Samajwadi Party leader. The reports state that both started dating each other in the year 2020 and after that, they tied the wedding knot on Friday, 6th January 2023. Both allegedly had a court marriage under the Special Marriage Act. Both managed to hide the news for over a month and the deceleration of their wedding was finally made through a video that went viral on social media.
Swara Bhasker marries political activist Fahad Ahmad
The viral video showed a glimpse of how they met and after watching it, the fans recognized both of them. The video shows, the newlywed couple first met in the month of January 2020 at the time of the protest. Akhilesh is a worker of the political party led by Akhilesh Yadav. Currently, he is the state president of Samajwadi Yuvjan Sabha which is the Youth Wing of the Samajwadi Party based in Maharashtra. The report states that he became part of this political party on 1st August 2022. Apart from it, many news websites are stating that Fahad is 4 years junior to Swara. Well, the fans of Swara are happy for her and sending their wishes to them.