SEE Result 2079 With Marksheet: How to check? Step-By-Step Guide
In this article, you will be getting to know how you can see or check Result 2079 with a mark sheet. You can also download the NTC NET from the information given below. You are required to read the article for a detailed study regarding the news. Follow us around for all the insights and fresh updates at PKB News.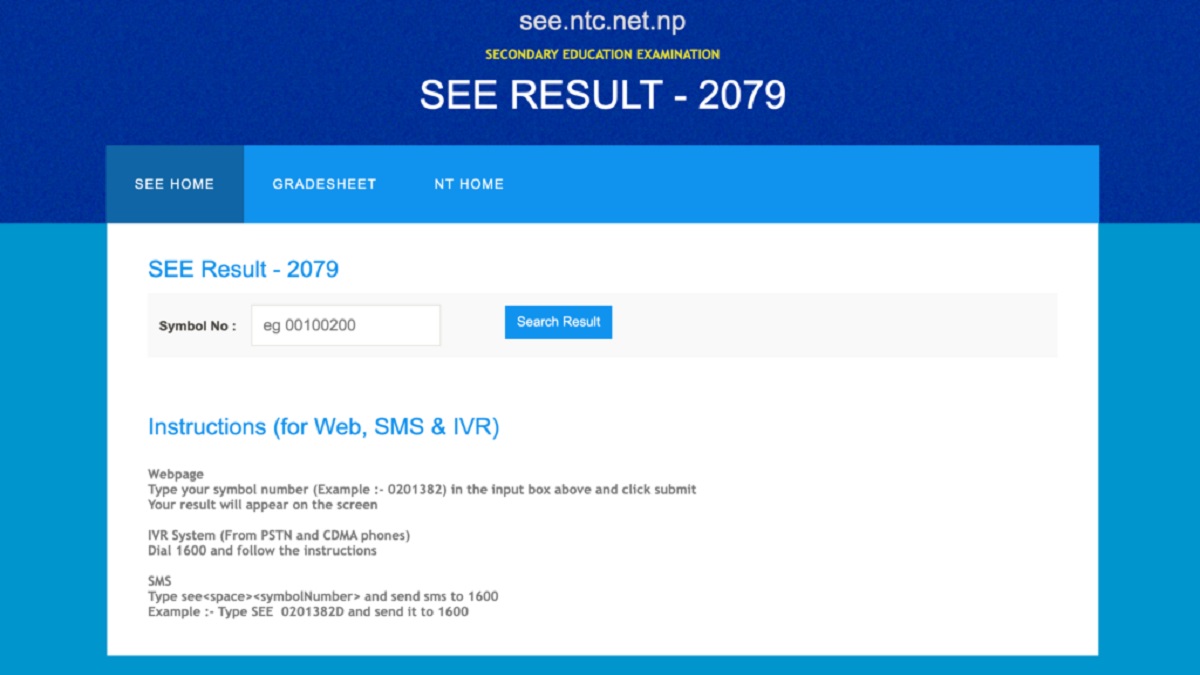 SEE Result 2079 With Marksheet: Step-By-Step Guide
Today, we are here to deliver this article as per our reader's demands and comments. If you are one of those who want to know about SEE Result 2079 with mark sheet ntc net, then continue reading and learn more. Recently, the Secondary Education Examination SEE results 2079 have been published, and students can now check their results online. Here are the following steps through which you can check the result as well as the mark sheet:
STEP 1: Go to the official website of Nepal Telecom at https://ntc.net.np.
STEP 2: Look for the SEE Result 2079 section on the homepage.
STEP 3: Enter your symbol number in the provided field.
STEP 4: Click on the 'View Result' button.
STEP 5: Your SEE Result 2079 with Marksheet will be displayed on the screen.
It is known that SE Result 2079 is an important milestone for students who have completed their secondary education. It also shapes their eligibility for higher education and future career prospects. Therefore, students are advised to check their results carefully and seek guidance from their teachers and parents for further studies. The National Examination Board in Nepal conducts the secondary education examination for students who have completed their secondary education. Nepal Telecom is one of the best and most trustworthy websites to provide you with SEE results. Following are the ways by which you can SEE results for the year 2079.
METHOD 1 (ONLINE) – Visit the official website of NTC at https://see.ntc.nt.np. You are required to enter your symbol number and date of birth to view your result.
METHOD 2 (SMS) – Type 'see space symbol number and send it to 1600 to receive your result via SMS.
METHOD 3 (IVR SYSTEM) – Dial 1600 from PSTN and CDMA phones and follow the instructions to hear your result.
It was believed that the SEE results 2079 were published on July 6, 2023. The National Examination Board (NEB) announced the result for class 10 on this date. The exam was long gone conducted from March 31, 2023, to April 12, 2023, and around 500,000 students participated in it. The result will contain the following details:
Student's name
Exam symbol number
Date of birth
School name and code
Grade obtained in each subject
Total marks obtained
Grade point average (GPA)
Division obtained (First, Second, or Third)
However, students can also check their SEE Result 2079 with a mark sheet that includes a detailed mark sheet of each subject, which comprises the marks obtained in the theory and practical examinations. The mark sheet also contains the total marks obtained and the grade obtained in each subject. Concluding the article, aspirants can check their SEE results by following the above-mentioned steps. They can also check their mark sheet on the official website of SEE. We also wish all the students the best wishes for their future.
If you found this article informative, then shares are always appreciated. Thank you for being a patient reader.