PM Yashasvi Scholarship Scheme, Documents, Eligibility, Apply @yet.nta.ac.in
In a bid to improve the country's economic growth and societal development, the Union government introduced a scheme "The PM Yashasvi Scholarship Scheme" in which people get financial assistance to meritorious students from economically backward backgrounds. Not to mention, education is the cornerstone of the country's development. If the country invests in its youth's intellectual potential which is necessary for societal development, the country will soon find itself on a drive to economic growth as well. Therefore, the government of India presented a scheme called the PM Yashasvi Scholarship Scheme. In this article, we will tell you who is eligible for this scheme and how to apply for it. Let's delve deep into the details and learn everything about it that you need to know.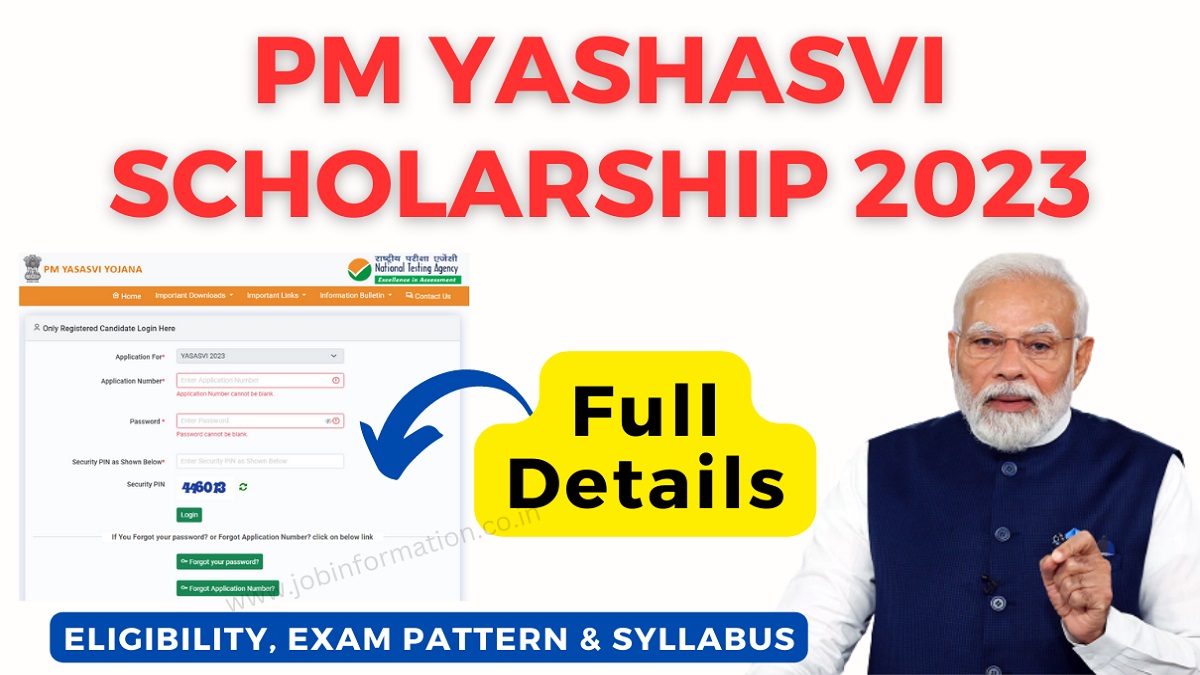 PM Yashasvi Scholarship Scheme
Through this scheme, the government is trying to bring more opportunities for all segments of society. The prime target of the PM Yashasvi Scholarship Scheme is economically disadvantaged backgrounds students who are showing exceptional academic potential. This scheme will provide financial support to those students, the central government is eyeing to demolish the gap between the aspiration to learn and the financial constraints that often stand in between. Swipe down the page and read more details.
PM YASASVI Scheme 2023 Important Dates
| | |
| --- | --- |
| Exam Conducting Body | National Testing Agency (NTA) |
| Exam Name | Yasasvi Entrance Test |
| Examination Date | 29 September 2023 (Friday) |
| Submission of online Application Forms | From 11 July 2023 to 10 August 2023 (up to 11:50 p.m.) |
| Number of scholarships | 15,000 Scholarships |
| Official Website | https://yet.nta.ac.in/ |
It is a hope for myriad sharp and talented minds that usually hinder by financial restrictions, PM Yashasvi Scholarship Scheme is a beacon of hope for financially not able students. This scheme will encourage the students to move toward their dreams. The nurturing of talent is very important for academic excellence and societal progress, thus, PM Yashasvi Scholarship Scheme will have a great impact on society. Through this scheme, the students will get scholarships at different levels of education including doctoral programs, postgraduate, and undergraduate. Who is eligible for PM Yashasvi Scholarship Scheme? Kindly pay attention to the following section to know this.
According to the National Testing Agency, some aspects will decide if the student is eligible for PM Yashasvi Scholarship Scheme. The eligibility criteria for this scheme are the student must be an Indian citizen, Economically disadvantaged background, Pursuing undergraduate, postgraduate, or doctoral studies, Excellent academic record, Applying for fields of study like science, technology, engineering, mathematics, or social sciences, Fulfilling specific income criteria, Meeting age requirements as specified, Applying within the specified application window, and Adhering to any other criteria outlined by the scholarship authority. Continue reading this article and learn more details.
Students would have to apply for a test called The Yasasvi Entrance Test 2023 application period is open from 11 July to 10 August 2023. Where to apply for The Yasasvi Entrance Test 2023? According to National Testing Agency, students have to apply at https://yet.nta.ac.in/. What is the date of the Yasasvi Entrance Test 2023? The entrance exam will take place on Friday, 29 September 2023. You must be getting curious to know the benefits that will be received under PM Yashasvi Scholarship Scheme. However, the government will award an annual value of between Rs 75,000 and Rs 1,25,000 to the 15000 students of Class 9 to Class 12 on the merit base. The Ministry of Social Justice and Empowerment (MSJ&E), the government of India developed the program PM Yashasvi Scholarship Scheme for Vibrant India (YASASVI). Continue reading this article for more details.
The last of submitting the application form for the Yasasvi Entrance Test is August 10, 2023, up to 11:50 pm. Here some students must be thinking of how to fill out the PM Yashasvi Scholarship Test Application Form. You need to head to the official website of YET www.yet.nta.ac.in. After entering the official YET website click on the register button if you are new to the website. You need to enter your Name, Email Address, and Date of Birth to sign up. After signing up to the YET official website, log in using the generated credentials. After logging in to the official YET website, enroll in the Yasasvi scholarship entrance exam. After sending in all the required information save the filled form containing the registration number which will be used to download admit card for the entrance exam.
PM YASASVI Scheme 2023 Documents
What are the documents needed to apply for PM Yasasvi Scheme 2023? The following are the documents that students will need to apply for this scheme:
Proof of Identity (Aadhar card, passport, etc.)
Proof of Residence
Academic Certificates (10th, 12th, or previous degree mark sheets)
Income Certificate
Admission/Enrollment Proof
Passport-sized Photographs
Caste Certificate
Any Other Supporting Documents as specified
Disability Certificate
Bank Account Details
In PM Yasasvi Scheme 2023 students of Class 9 will receive Rs 75,000 per year and the students of Class 11 will be paid Rs 125000 annually. It aims to provide financial assistance to students from economically disadvantaged backgrounds. Its purpose is to enable these deserving pupils to pursue higher education, particularly in fields that are important for national development, such as science, engineering, technology, social sciences, and mathematics. Stay tuned to this website for more details and further updates.