Super Typhoon Philippines: Mawar, 2023's most powerful storm
Shock waves continue from the Philippines where Super Typhoon Mawar is seemingly to gain more strength and become intensifying.  Meanwhile, Tropical Cyclone Advisory Number 5 was issued today at 11 am. The latest advisory is valid until the next advisory will be issued tomorrow morning at 11 am. The latest advisory says Super Typhoon Mawar will slightly get intensified while heading westward over the Philippine Sea. According to the number 5 advisory, the center of the eye of Super Typhoon Mawar was 1705 Km East of Southeastern Luzon at 10 am. You are asked to stick with this page and must go through this column to know more details about Super Typhoon Mawar. Scroll down the page and take a look below.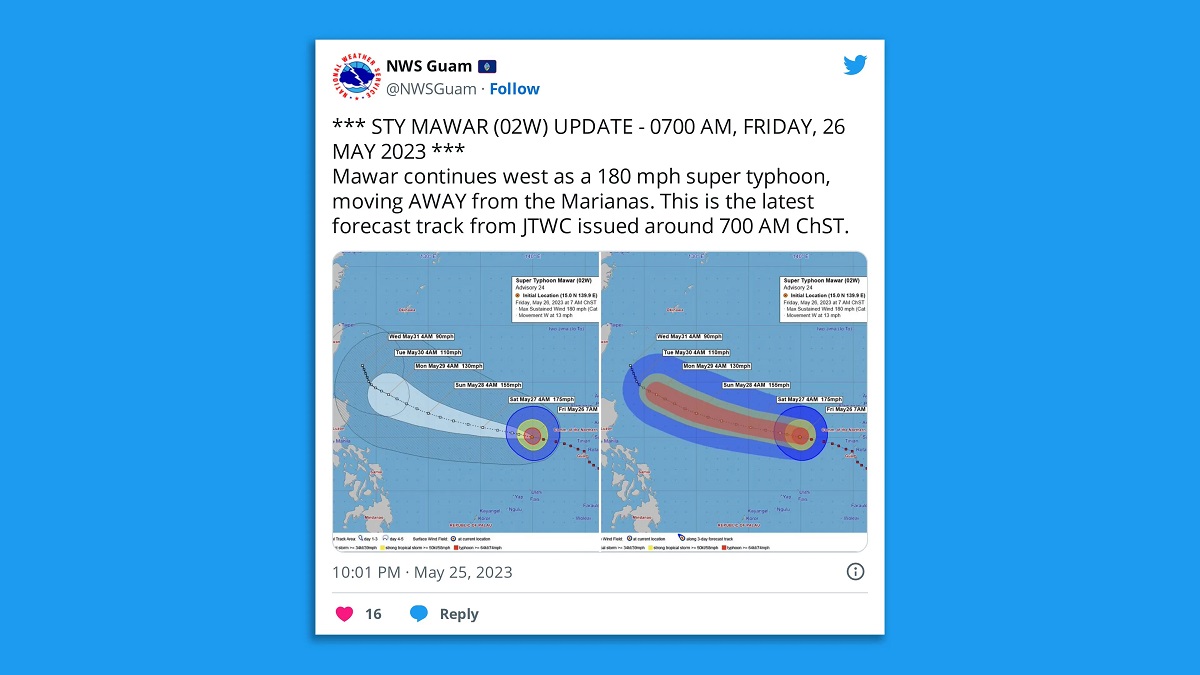 Super Typhoon Philippines
The officials have stated that Super Typhoon Mawar is forecast to track until Sunday generally west-northwestward while accelerating before turning northwestward the same day. Reportedly, the super typhoon will enter the Philippine Area of Responsibility (PAR) by early morning on Saturday as per the forecast track. It is expected that Mawar will decelerate on Sunday and begins to move near the waters east of Extreme Northern Luzon. Furthermore, the center of Super Typhoon Mawar's eye is forecast to be within 250 km of the Batanes-Babuyan archipelago during the slowdown period by next week. Swipe down the page and read more details.
The recent forecast reports claim that Mawar may bring heavy rains which can lead to flooding or rain-induced landslides in Northern Luzon from Sunday night or Monday morning. Additionally, the forecast circumstances are strong to storm-force conditions are expected to experience over Extreme Northern Luzon, and strong to gale-force conditions are expected over the eastern and northern portions of Northern Luzon's mainland. As a result, wind signals will be raised by tomorrow evening in preparation for these severe winds. Read more details in the next section.
Super Typhoon is also forecast to bring earlier the Southwest Monsoon which may bring rains over Central Luzon, Southern Luzon, and Visayas's western portions starting from Sunday or Monday. The public and disaster risk reduction and management offices are concerned about these developments and continue monitoring for updates related to this tropical cyclone. The next advisory is expected to come out on Saturday morning at 11 am or tonight at 11 pm. Stay tuned to this website for more details and updates.