WATCH: Pizza Delivery Driver Trips Suspect Fleeing From Cops
Doorbell camera video captured the moment a pizza delivery man helped stop a suspect running from the police. Here's the full story. A Brookhaven homeowner shared footage from his Ring camera when Tytler Morrell, a Cocco's Pizzeria delivery man, tripped a suspect who was running from police, Fox 29 reported. Reporters asked Morrell what gave him the courage to step in and help, he further said that he never thought about doing anything but stepping in. He added that he was raised to step up for something that is not right, he just did his part. The video shows police cruisers stopping in front of the house Morrell was delivering the pizza to when the suspect got out of the vehicle and began to run. Morrell stuck out his foot to trip the suspect.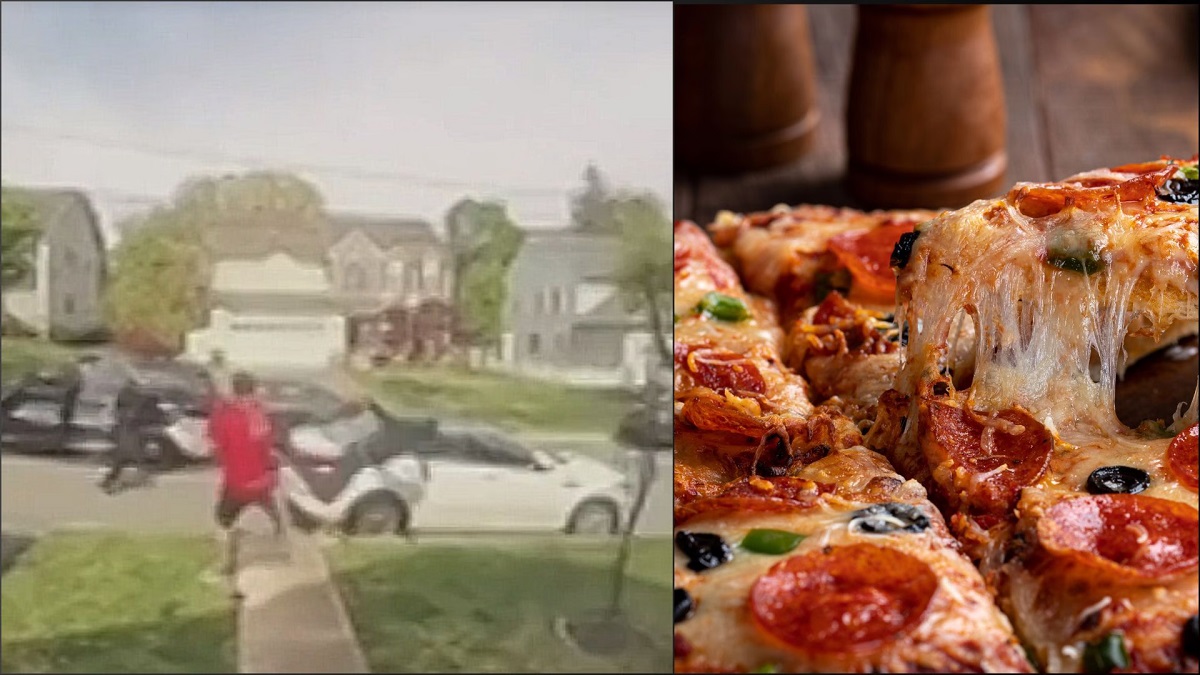 Pizza Delivery Driver Trips Suspect
The suspect hit the ground and Brookhaven police officers made the arrest. That stuck-out leg was enough to trip the suspect, causing him to tumble to the ground, where police arrested him. The incident was caught on the customer's security video. Police claimed that they also arrested 19-year-old Jhonael Gutirrez-Tejada, who was allegedly a passenger in the stolen car. After all the commotion was done, Morell still managed to get the pizza delivered safely. The person who ordered the pizza remarked him 10 on 10!
Reportedly, Tejada is facing charges of receiving stolen property, resisting arrest, and other charges. He's being held behind bars on $50,000 bail. The 17-year-old suspect is also facing charges. Thank you for being a patient reader.
Give the man a raise

— tony2823 (@tony28231) April 18, 2023
Pizza delivery guy ends police chase with his foot. 🤣

— Wall Street Silver (@WallStreetSilv) April 18, 2023
Not all heroes were capes … some carry pizzas

— Mobile (@MobileIgnorance) April 18, 2023
Multitasking at its best. 😂

— Crypto Rand (@crypto_rand) April 18, 2023
Deliver the pizza justice warrior smh

— MADEBYLA©️ (@made6yla) April 18, 2023
Nice , well done.😂

— VM Navas – יוסף (@vm_navas) April 18, 2023
Give the guy a Benjamin for tip 😂

— OuterSpace (@1Cryptonaut) April 18, 2023
mr. pizza guy, the unsung hero!

— SM3 (@00SM300) April 18, 2023
THIS guy deserves to be on a beer can.

— Gregory (@gregzilla901) April 18, 2023
Great job for the pizza guy. But I only hope he won't get lawsuits from the criminal or the criminal's family 😅

"How dare you trip me when I committed felony crimes and running away from the police"

As you know we are a 🤡 world now.

— Fang-Pen Lin 🇺🇸🌈 (@fangpenlin) April 18, 2023
If it's a democrat area, the pizza guy'd be charged with assault after being thanked by the police. 😢pic.twitter.com/jDpBywib8i

— Humble Garage (@humblegarage) April 18, 2023
I'm glad the delivery guy did that, but I'm worried the perp's attorney will write up papers for the perp to sue the delivery guy for assault. Hope not, but with today's lawyers, meh.

— SectorSpider (@SectorSpider) April 18, 2023
Depending on the state this occurred in the pizza guy could get sued, sadly

— james cawlfield (@james_cawlfield) April 18, 2023
Gamer! Never dropped the pizza!

— J₳yfly (@Jayfly30590819) April 18, 2023
This is great! He never even dropped his pizza delivery.

— Monte Joiner (@cashjackson35) April 18, 2023
I was so worried about the pizza

— Tesla Pachanga (@NYpachanga) April 18, 2023
Nice sweep and did not even drop the pizza, Now that is how it is done 💯😂

— 𝔸𝕞𝕖𝕣𝕚𝕔𝕒𝕟 ℙ𝕒𝕥𝕣𝕚𝕠𝕥 (@MMA_Pureblood) April 18, 2023