IPL 2023 Tickets Booking: How To Buy IPL Tickets, Pre-registration For Mumbai Indians Matches
We are back with another exciting and interesting news. If you are a lover of Cricket. So get ready to watch IPL 2023. As we know people are crazy about IPL. All are very excited about the IPL matches and all are curiously waiting for the games. When IPL comes all the fans get too excited. People have several questions regarding the match. When IPL will take place? How can we get the tickets to watch the match? Which is the platform for pre-registration for Mumbai Indians Matches? We will try to tell you each and every detail about the matches. Let's continue the article.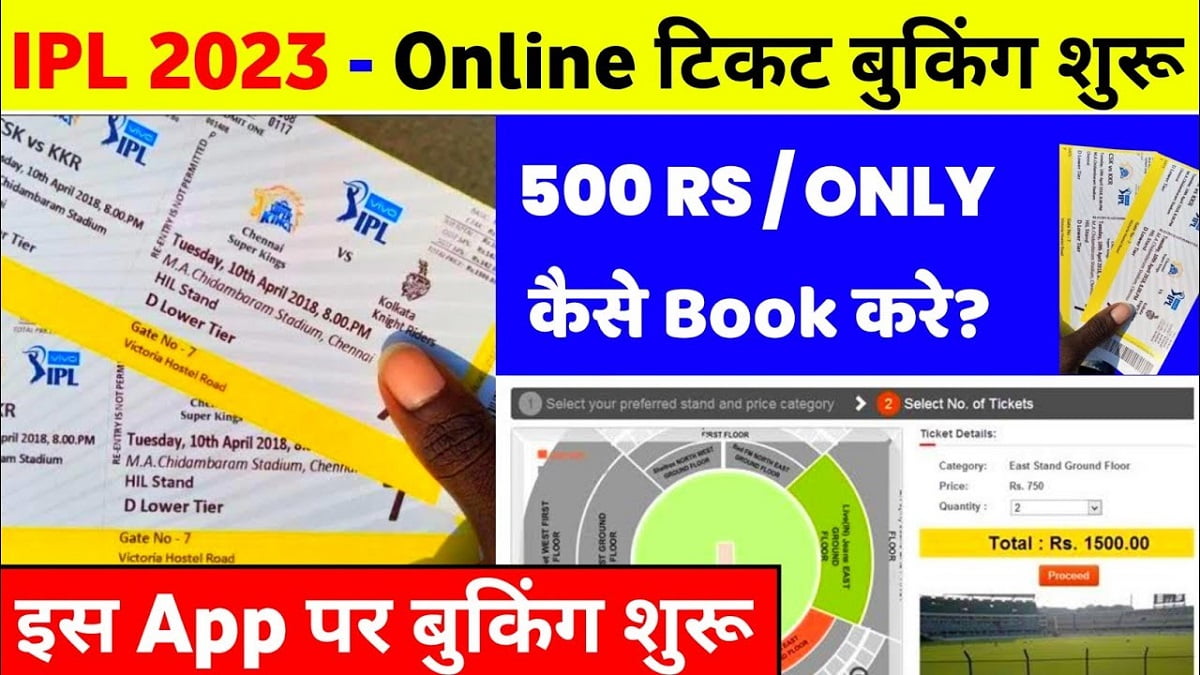 IPL 2023 Tickets Booking
The Indian Premier League is approaching. Let us tell you 16th season of the Indian Premier League or IPL 2023 will be amazing it will take place on 31 March and run Until 2 June. Fans can enjoy the game to reserve seats for the team's IPL 2023 home games. Pre-registration for the tickets has begun and supporters may visit the BookMyShow to book their seats for the Mumbai Indians' home game at the historical Wankehede Stadium. Several things remain to tell you about the news, which you will find in the next section of the article.
How To Buy IPL Tickets Online
Step 1: Visit the BookMyShow website or app – https://in.bookmyshow.com/sports/ipl-2023-mumbai-indians-tickets-pre-registration/ET00353133
Step 2: Look for "IPL 2023 Online tickets" or search for IPL 2023
Step 3: Select the match and click on "Register"
Step 4: Enter the required details and complete the form
Step 5: Click on "Submit"
Step 6: You will get confirmation on the successful pre-registration for IPL 2023 Online tickets.
If we talk about the registration for the tickets so it will be started on 27 Feb. The service is open through 8 March. Royal Challengers Bangalore visit Chinnaswamy Stadium on 2 April to begin the Mumbai Indians' IPL 2023 season. They will play their first home game against Chennai Super kings on the day of 8 April. Let's talk about the process of the pre-registration process. So let us clear you, MCA has introduced a pre-registration process for the first time. Those who pre-register for IPL 2023 tickets will get precedence access when tickets go on sale. You can check the pre-registration page on the BookMyShow website if you are an interested fan.
Bookers will be brought to a website where they must enter information such as First Name, Last Name, Email ID, Phone Number, Gender, Pincode, and Date of Birth after clicking  "Register" on the right side of the computer displays. The IPL 2023 Ticket process began today at 11:00 and the chances of the finishing time are before 8 March.
Mumbai Indian IPL 2023 Complete Schedule
Match 1: Royal Challengers Bangalore vs Mumbai Indians, Bengaluru (7:30 PM IST) April 2, 2023
Match 2: Mumbai Indians vs Chennai Super Kings, Mumbai (7:30 PM IST) April 8, 2023
Match 3: Delhi Capitals vs Mumbai Indians, Delhi (7:30 PM IST) April 11, 2023
Match 4: Mumbai Indians vs Kolkata Knight Riders, Mumbai (3:30 PM IST) April 16, 2023
Match 5: Sunrisers Hyderabad v Mumbai Indians, Hyderabad (7:30 PM IST) April 18, 2023
Match 6: Mumbai Indians vs Punjab Kings, Mumbai (7:30 PM IST) April 22, 2023
Match 7: Gujarat Titans vs Mumbai Indians, Ahmedabad (7:30 PM IST) April 25, 2023
Match 8: Mumbai Indians vs Rajasthan Royals, Mumbai (7:30 PM IST) April 30, 2023
Match 9: Punjab Kings vs Mumbai Indians, Mohali (7:30 PM IST) May 3, 2023
Match 10: Chennai Super Kings vs Mumbai Indians, Chennai (3:30 PM IST) May 6, 2023
Match 11: Mumbai Indians vs Royal Challengers Bangalore, Mumbai (7:30 PM IST) May 9, 2023
Match 12: Mumbai Indians vs Gujarat Titans, Mumbai (7:30 PM IST) May 12, 2023
Match 13: Lucknow Super Giants vs Mumbai Indians, Lucknow (7:30 PM IST) May 16, 2023
Match 14: Mumbai Indians vs Sunrisers Hyderabad, Mumbai (3:30 PM IST) May 21, 2023