Emma Chamberlain's Met Gala 2023 look fans trolled on Twitter
Every year fans waited for the Met Gala, as their favorite artists showcase new trends and outfits. And not only do the fans wait for the red-carpet look of the artists but they also wait every year for this Gala.  The red carpet of the Met Gala is very famous in the fashion industry. As this year many celebrities attended the gala and Emma Chamberlain was one of them. Now fans are going over the internet to know more about the outfit of her choice for this year's Met Gala. In this article, we are going to tell about the outfit of Emma Chamberlain as well as about the previous years' outfits.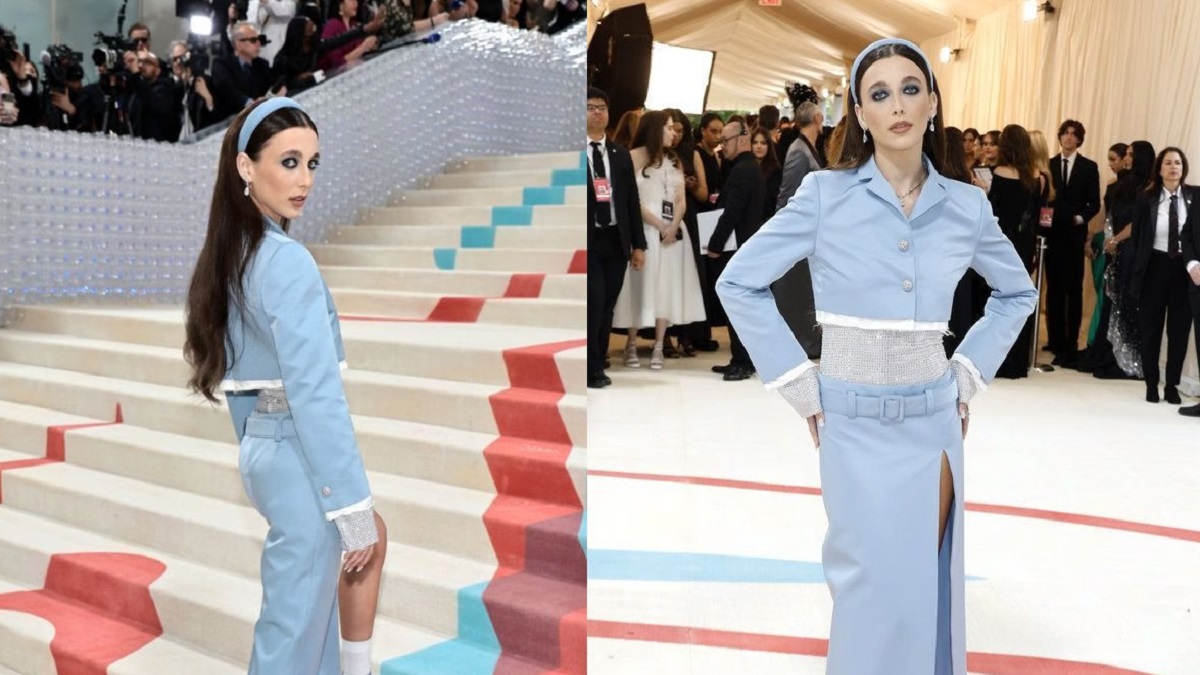 Emma Chamberlain's Met Gala 2023 look
Ever since she made her debut at the Met Gala in 2021, Emma Chamberlain has become one of the event's most anticipated attendees. In contrast to this year's Karl Lagerfeld-themed night, when she opted for an eccentric kind of sheen, she stole the show at the gala last year with her Cartier diamonds. Emma dressed in an all-blue Miu Miu outfit for the occasion. The internet, however, seems to be upset with the celebrity's red carpet appearance, with one person writing: "Tell me what she was wearing " The artist's attire appeared to disappoint her admirers as several voiced complaints about how poorly put together it was, while others remarked on how she appears in the same attire at the gala every year.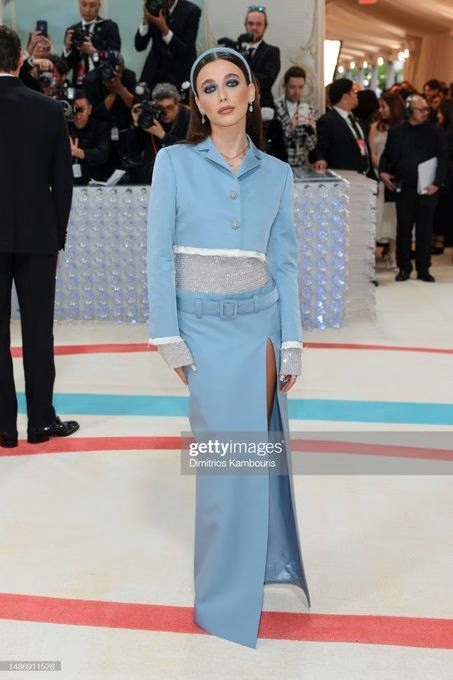 Emma Chamberlain has attended the Met Gala before. In addition to conducting celebrity interviews and providing viewers with an inside look at the fashion spectacular, the 21-year-old YouTuber and influencer have been anchoring Vogue's red-carpet livestream for the past three years. However, Emma is more than just a host; she is also a fashion icon in and of herself. Emma wowed in a sophisticated yet whimsical light blue outfit for the 2023 Met Gala. Emma wore a matching combination from Miu Miu that included a floor-length maxi skirt with a thigh-high leg slit and a cropped blazer.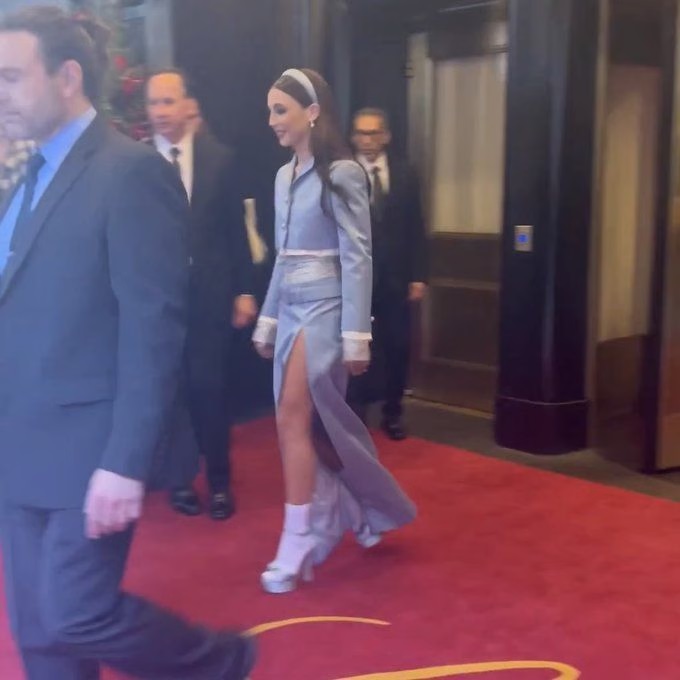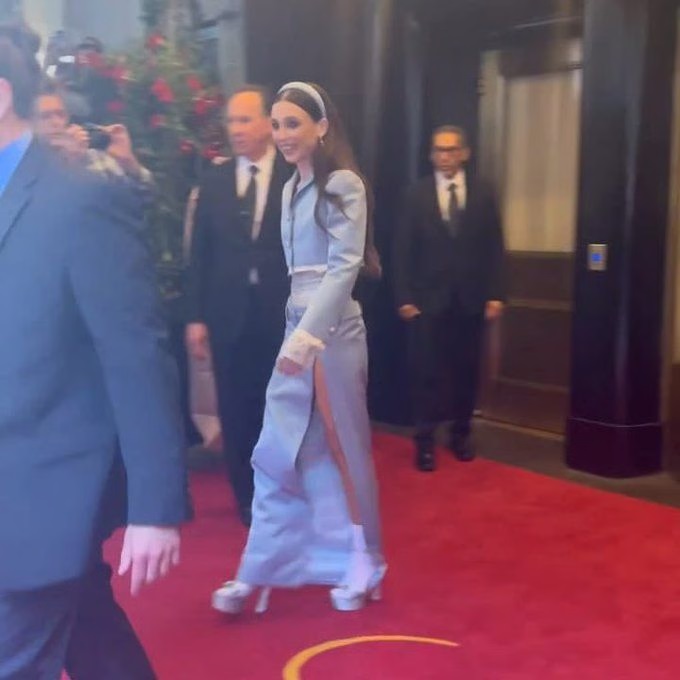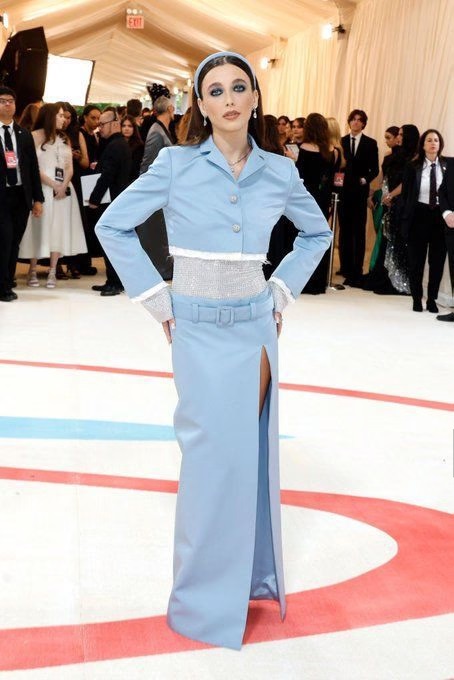 The blazer's silver buttons and white raw hem edges matched the dazzling accents on her belly and wrist cuffs. She looked dramatic because of the slight train and satin lining of the skirt. Emma completed her look with a choker, white ankle socks, satin blue platforms, teardrop diamond earrings, and a headband in powder blue. The 2023 Met Gala's "Karl Lagerfeld: A Line of Beauty" theme, which paid homage to the late German fashion designer who passed away in 2019, served as the inspiration for Emma Chamberlain's ensemble.
https://twitter.com/beyzanurapaydin/status/1653157976323104768
why does emma chamberlain dress the same in every met gala https://t.co/Cc1i28RSbA

— rya (@ryaazon) May 1, 2023
Okay Emma Chamberlain thank you for the blue but this is literally your 2022 look with a different skin #MetGala pic.twitter.com/vqqcPfme6B

— Dais (@thegoodolddais) May 1, 2023
emma chamberlain being a fashion icon but being unable to serve a single good look at the met gala needs to be studied https://t.co/vzX93TMExC

— yee yee (@yEeyEe006) May 1, 2023
the issue is emma chamberlain has the ability to serve but every single met gala she just doesn't. i need her stylists to do better

— jenn⁷ (@namgipluto) May 1, 2023
emma chamberlain has never failed to give good and on point themes at the met gala ever since she started getting invited pic.twitter.com/5ke3YLp97H

— zenitsu (@givenchyleclerc) May 1, 2023
Emma Chamberlain, Met Gala 2023 pic.twitter.com/SC49iEpbRD

— 🌻 (@bllskhadid) May 1, 2023
Emma Chamberlain's crisp sock & platform heels combo is giving me life tbh

🎥 @venesajco #MetGala pic.twitter.com/OBiT6GnHW1

— Refinery29 (@Refinery29) May 1, 2023
Emma Chamberlain channeling Chanel Spring 2014 Couture #MetGala pic.twitter.com/Gys796399R

— H 💎 (@chaoswintour) May 1, 2023