WATCH: Big Lex and Joseline Hernandez Fights video backstage fight during Floyd Mayweather vs John Gotti fight
Big Lex and Joseline Hernandez, two reality TV personalities, were recently seen fighting at the Floyd Mayweather vs. John Gotti III fight. In an exhibition boxing bout on Sunday at the FLA Live Arena in Sunrise, Florida, Mayweather faced off against the grandson of a New York mobster. Gotti III was disqualified by referee Kenny Bayless midway through the sixth round of the eighth fight for inappropriate grabbing. After the final bell, Gotti shoved the referee aside and charged toward Floyd Mayweather, causing complete commotion inside the ring with both fighters' encouragement.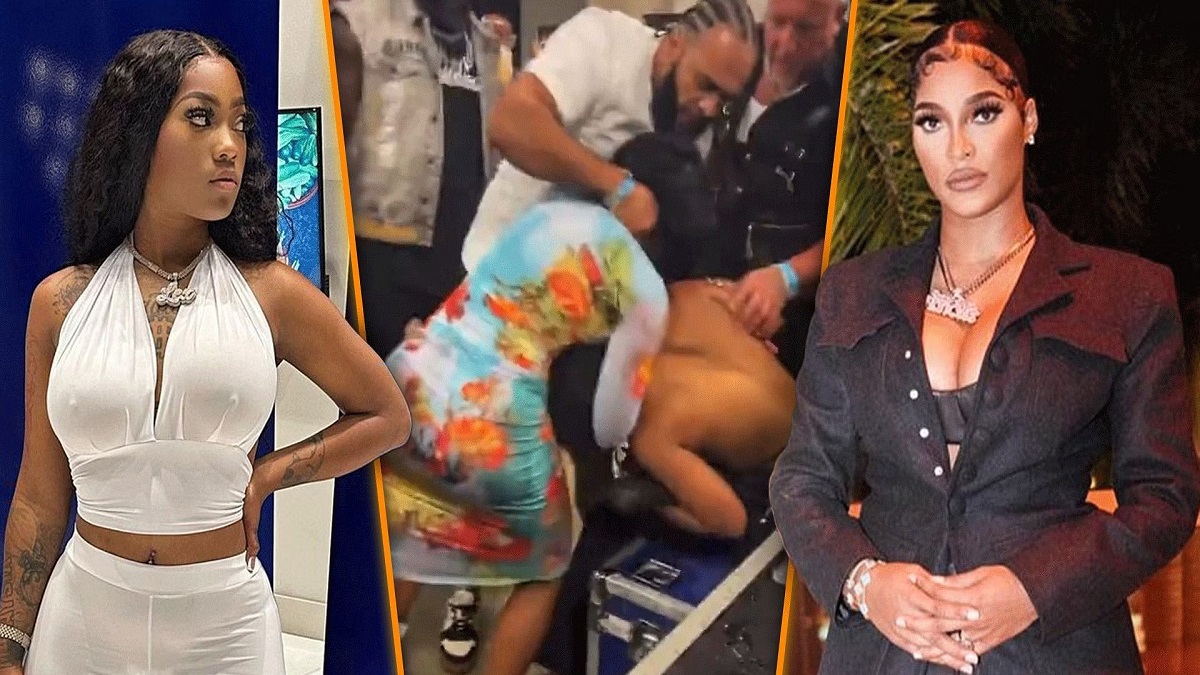 Big Lex and Joseline Hernandez Fights video
Although the situation spilled over backstage, it is still unknown if Joseline Hernandez and Big Lex's altercation was related. Hernandez, a reality TV celebrity like Lex, was witnessed inflicting unimaginable punishment on Lex, who lost his top in the altercation. In addition, Hernandez held Lex in a chokehold while onlookers stood by without making any attempt to break it up.
Big Lex was briefly released from Joseline Hernandez's grip before she came back to kick her while she was on the ground. As he attempted to stop her, Hernandez seemed to strike security guards repeatedly. Hernandez and her friends pursued Lex after she took advantage of the opportunity to flee and eventually caught up with her. When challenged, Lex responded by hurling her coffee and slamming Hernandez with her heels. Joseline Hernandez is the star of Joseline's Cabaret, a reality television program that debuted on the Zeus Network on January 19, 2020. Since then, three seasons of the program have aired, with Big Lex appearing in the second. Read the next paragraph to know more about this controversy.
Who is big Lex? pic.twitter.com/LbjqvplyNv

— Mar Mar La Flare (@mar_2Times) June 12, 2023
https://twitter.com/UncutCircle/status/1668097147567239168
another angle of Big Lex fighting Joseline pic.twitter.com/Es1vRCAilE

— BIG LEX BADDIE COLLECTION INC (@BIGLEXBADDIES) June 12, 2023
After responding to a mother who admitted to having aborted her twins, Lex shot to prominence with her 'double homicide' comment. Additionally, Lex released a song called "double homicide" as a diss track for Hernandez. She also got into a fight with Hernandez during the show's reunion when she tried to advertise her own program, Big Lex, The Baddie Collection. It's possible that Joseline Hernandez and Big Lex's altercation at the Floyd Mayweather bout was brought on by their time spent at Joseline's Cabaret. The hostility between them, nevertheless, seems to be connected to their work in reality television. So this was all about this case. We have shared every single piece of information about this big controversy. We will give you some more updates about this case very soon. So, Stay tuned to PKB news.