BB Jodi Winner, 1st Runner-up Name, Prize Money
BB Jodi is a well-known dance reality show. The show premiers on Star Maa and Disney+ Hotstar. People are eager to know more about the show's winner, cash price, runner-up, and more. You will get complete details about BB Jodi's final results. Keep reading for more details. BB Jodi premiered on Star Maa. The show has reached the top 6 finalists. The show started on 25 December 2022.  There were 8 celebrity couples in the beginning. They competed and currently, 5 couples are in the final. The show is judged by Radha, Tarun Master, and Sadha. The couple who will win the show will get BB Jodi and Prize Money worth 25 Lakhs rupees. Let us have a look at the top 5 finalists in the show.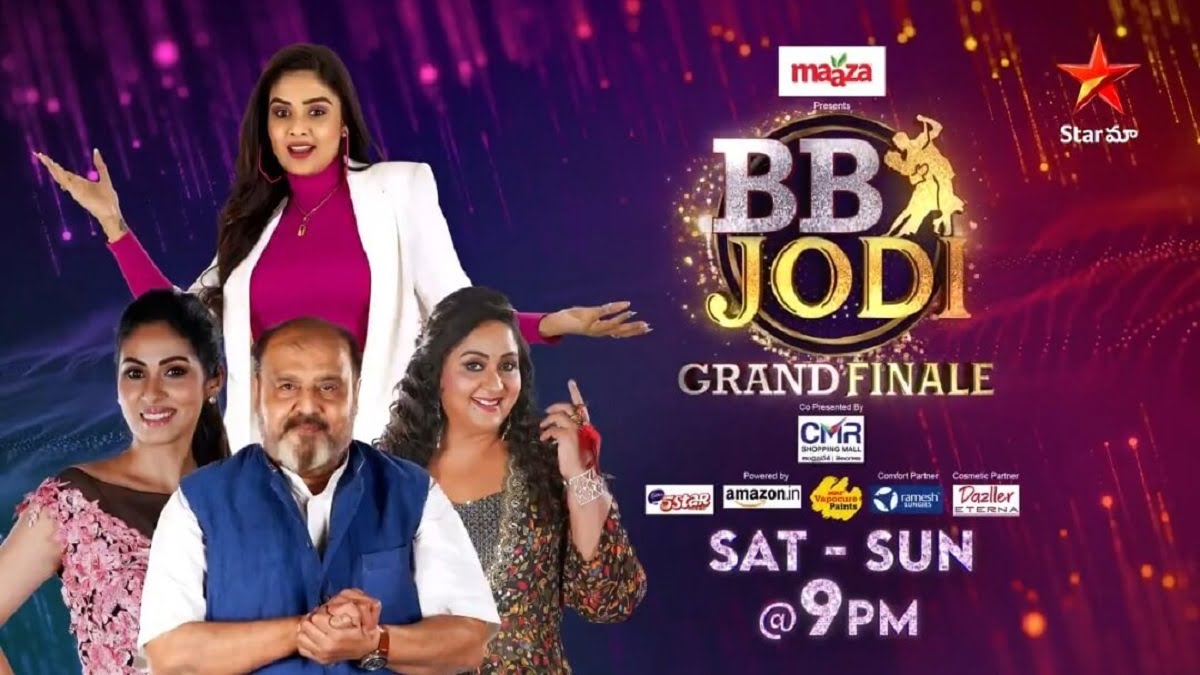 BB Jodi Winner 
The 5th Finalist in the show was RJ Chaitu and RJ Kajal. They were Dhamaka Jodi. The 4th finalist was Mehboob and Sri Satya who were again Dhamaka Jodi. They were eliminated in the semi-finals. 
Sr No.
Celebrity Names
Team
Status
Prize Money
1
Avinash & Ariyana

Pataka Jodi

1st Runner-up

N/A
2
Mehboob & Sri Satya

Pataka Jodi

4th Place

N/A
3
Surya & Faima

Dhamaka Jodi

Winner

 🏆
Ra. 25 lacs
4
Arjun & Vasanthi

Pataka Jodi

2nd Runner-up
N/A
5
RJ Chaitu & RJ Kajal

Dhamaka Jodi

5th Place

N/A
Runner Ups in BB Jodi: 
The 1st and 2nd runner-ups of BB Jodi are as follows. 
The 2nd runners were Arjun and Vasanthi. While the first runner-up who was very close to winning was Avinash and Ariyana. Now, everyone must be excited to hear about the winner.  
Let us have details about the BB Jodi Winner 2023. 
Winner Of BB Jodi 2023: 
BB Jodi 2023 was won by Surya and Faima. They have won the BB Jodi Trophy and Rs. 25 lacs of the cash price. 
BB Jodi Finale Release Date: 
BB Jodi Finale is released on 25th March 2023 and 26th March 2023. The timing for the same will be 9:00 p.m. The show will be telecast on Star Maa. 
You can also prefer watching Disney+ Hot star. Let us conclude the above in short. 
 Conclusion: 
The dance reality shows BB Jodi started in December 2022. It started with 8 couples. The winner Jodi was declared to be Surya and Faima. The finale was telecasted on 26 March 2023. The show had a lot of demand from the public, especially in South India. Dance reality shows are the best ones as they are a full power pack of entertainment, energy, talent, and skills.  
The show has ended. We all will be waiting for the next season to come soon, and the contestants get ready for the next season to rock the stage. This was all about BB Jodi. We keep bringing such articles to our website. Stay tuned for more details about your favorite celebrities.