WATCH: Edison High School pride video sparks outrage online
In this article, we are going to share a very shocking incident with you. The Edison High School in Huntington Beach, California, has faced a lot of anger online as a result of a viral video showing a teacher pressuring students to view a Pride film. A student who was secretly recording the incident in the classroom published the footage yesterday. Students who refused to watch the video were also overheard being threatened by the teacher in charge of the viewing. The incident infuriated online users, who persistently criticized the educational institution.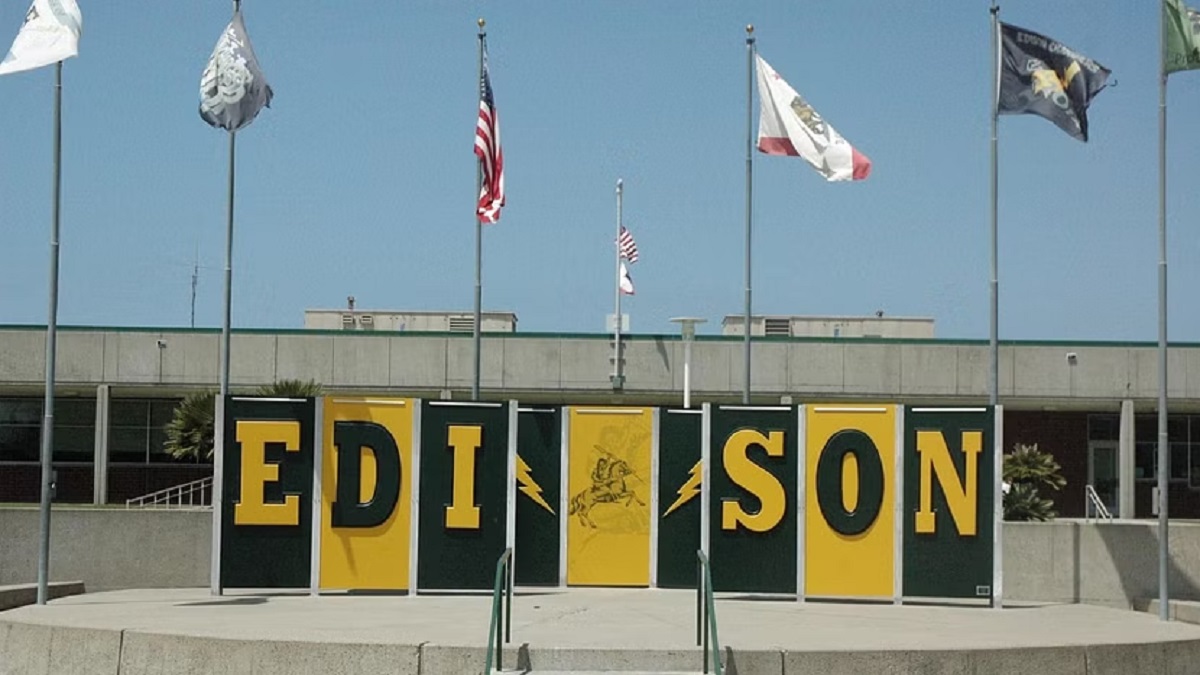 Edison High School Pride video
Reddit users discovered that the LGBTQ Pride film had been shown in a math lesson. While seeing the film, which featured a rainbow Pride flag and two women kissing, the kids seemed uneasy. "Why are you showing this to kids?" heard from one student. The unnamed teacher warned the Edison High School pupils that they would have to go to class on Saturday if they didn't want to view the film even though they were uncomfortable. The instructor said We'll let you know right away that we'll have to reduce supervision and send everyone to Saturday school if they act inappropriately. It appears that the film was shown in class to commemorate Pride Month, which is observed in June.
Internet users assert that Tiffany Clark was the instructor who played the video, though this has not been confirmed. Internet users react to the popular Edison High School video. The video startled internet users. Many people questioned why the video was shown in a math session. A number of internet users asked that the Edison High School instructor be fired. Others thought the situation was wrong and stated that they preferred homeschooling kids to prevent incidents like this from happening. The viral video that has been going around the internet was not addressed officially by Edison High School as of the time this article was being written. Conservatives have done their best to minimize the movement as the LGBTQ community celebrates Pride Month.
Outside of a school board meeting in Southern California, a fight recently broke out between supporters and opponents of the LGBT community. The group got together to discuss whether or not June should be acknowledged as Pride Month. A total of 500 individuals attended the event, and several protesters wore t-shirts that stated, "Leave our kids alone." Once the battle started, 50 police officers were sent to the area. Three persons were detained for delaying police and deploying pepper spray illegally. So this was all about this case. So, Stay tuned to PKB news.
This video should open some eyes. This teacher is basically saying they need to shut up and watch the LGBTQ kissing video or they get detention/Saturday school. 🥴

— Robby Starbuck (@robbystarbuck) June 11, 2023
Parents of kids at Edison High School in Huntington Beach, California say this video was played to their kids in math class. The kids clearly didn't want to watch this pride video so the teacher threatened them with Saturday school to get them to watch it. pic.twitter.com/FUnB9DKYrN

— Robby Starbuck (@robbystarbuck) June 11, 2023
When did this occur? Mz. Clark needs to be reminded of her station in life & in the workplace. Huntington Beach unified school district – Edison high school. Furthermore, the site administrator needs to be reminded that we will not tolerate this as does the school board! 🇺🇸 pic.twitter.com/HYW4F3EhKT

— Tip van Tott (@atabucky777) June 11, 2023
It's time to home school our children!

— Toby (@BuddhaBoy49) June 11, 2023
And they can't understand why parents are getting so mad.

— Cheryl Jean (@CherylJ11011655) June 11, 2023
A wise man once said, "They should leave little children alone. That's the real issue."

— Marsupial Gamer (@Marsupial_Gamer) June 11, 2023
Woah. Teacher activist is a groomer!

— MaximusOpus (@LaopiekwaWillis) June 11, 2023
Fire this "teacher"!

— Cheri H (@Hendergirl2) June 11, 2023
The teacher should be fired forthwith!
Do the parents know about this?

— Pete (@Pete_1943) June 12, 2023
Disgusting. Teacher should be fired immediately.

— Radical MAGAextremist 4 Jesus Deplorable Sandy🇺🇸 (@sandyHuggy) June 11, 2023
ThEy'Re NoT AfTeR YoUr KiDS

— Among the Wildflowers (@deaflibertarian) June 11, 2023
— Natural Born Alchemist (@BornAlchemist) June 11, 2023