Bigg Boss 16 February 6 HIGHLIGHTS: Nimrit Kaur Ahluwalia Eliminated From BB16
The most awaited week of the popular controversial Bigg Boss 16 is finally here. The fans as well as the contestants are desperately waiting for this week and they are super excited to watch who lifts the trophy of this 16th season. The journey of all the contestants is unique in its own way but this season is quite different from previous seasons. This show is all about showing your real personality and many contestants have actually good to do it. But some of the contestants did nothing throughout the start of the show but due to the heavy involvement of Bigg Boss some of them get a chance to survive till now.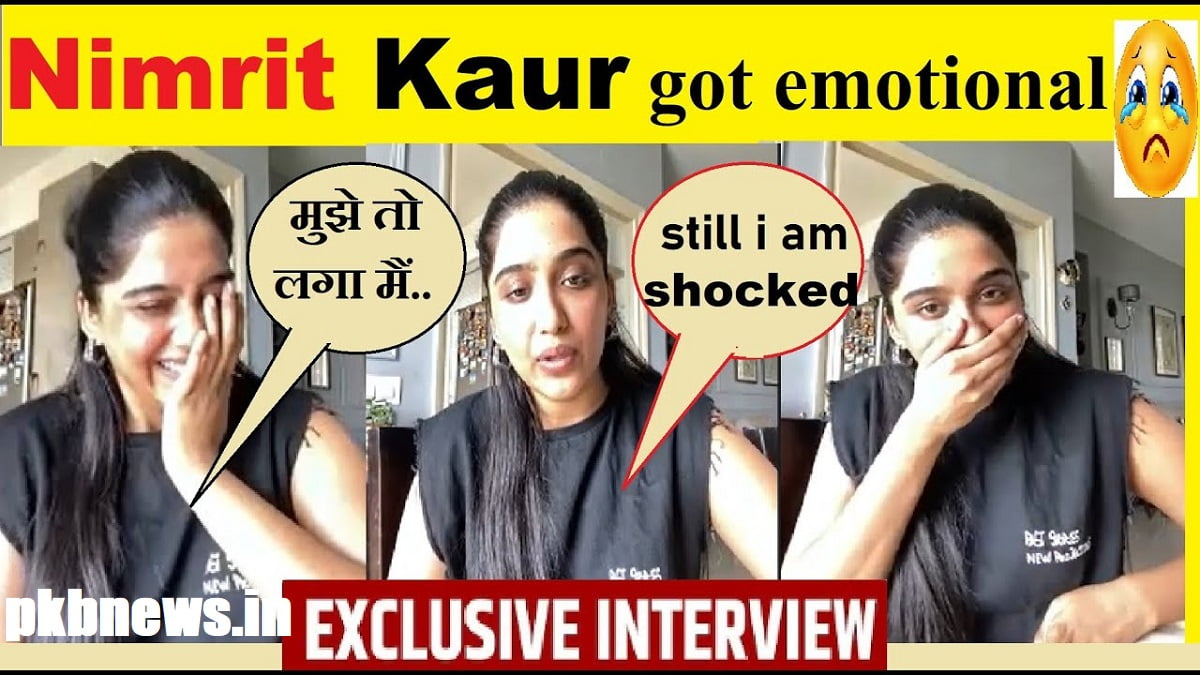 Bigg Boss 16 6th February 2023
Many fans think that Nimrit is one such contestant whose involvement is less than as compared to others. According to those fans, Nimrit has just bitching and bad-mouthing the other contestants and apart from it there is no such involvement she has shown. In fact, due to Shiv, she has survived till now in the show. But now the reports are stating that she has been getting eliminated from BB house in today's episode. It is quite sad for a contestant to leave the show at this stage when he or she is very close to the trophy. To know more about it in a detailed manner just keep on reading it.
View this post on Instagram
As we stated earlier that one contestant will be eliminated in the mid-week of the show and now the reports are coming out which is clearly pointing out that after the eviction of Sumbul Touqeer Khan, another Mandali member is getting eliminated. The rumors as well as some news reports are stating that Nimrit Kaur Ahluwalia was allegedly thrown out of BB house. Khabri made a Tweet which reads that "Exclusive and Confirmed, Yes Nimrit Kaur Ahluwalia is voted out of the BB house by the audience." Well, we are not sure about it and waiting for the episode to be telecast so that we get the authentic information related to it.
Nimrit ko ghar me captain banake bheja aur ghar se captain award dekar. This is not done. 💔 #NimritKaurAhluwalia#BiggBoss16 #BB16

— Shubham Tharwani 💎 (@ShubhamTharwani) February 6, 2023
Speaking about today's episode, the watchers will be going to see a special task that decides the fate of exciting contestants who will get the chance to make it their last step toward the position of top 5 finalists of this 16th season. BB informs the contestant to get ready as some special guests are coming into the house. All the contestants get excited to meet them and when they watched the viewers in front of them their energy level goes to the next extent. After that BB informs the contestants that these audiences will play an important role in today's episode and decide who will get placed in the top 5 contestants of this last journey of BB 16 and the contestant who will get the least vote will be out of the house.
Holding hands till the end ❤️
I hope they will be together always… 🧿❤️ #ShivRit #ShivThakare ❤️ #NimritKaurAhluwalia ❤️ pic.twitter.com/9L1yR83qtw

— Tejas (@futane_tejas) February 6, 2023
Shiva Get That Trophy for Your Nimya❤😭 Unfair and Unexpected eviction💔!!! #ShivRit #ShivThakare #NimritKaurAhluwalia pic.twitter.com/h8Vpwjeu6T

— 𝐓𝐄𝐀𝐌 𝐒𝐇𝐈𝐕𝐑𝐈𝐓 𝐎𝐅𝐅𝐈𝐂𝐈𝐀𝐋 (@ShivRitOfficial) February 6, 2023
Bht muskil hoga Aaj ka episode dekhna😭💔 My Top 2 My #ShivRit… Really Disappointed with the decision!!! May God bless you with lots of happiness and success in your life @NimritAhluwalia Lots of love❤😭 #NimritKaurAhluwalia #ShivThakare pic.twitter.com/WCDfN38bU3

— 𝐓𝐄𝐀𝐌 𝐒𝐇𝐈𝐕𝐑𝐈𝐓 𝐎𝐅𝐅𝐈𝐂𝐈𝐀𝐋 (@ShivRitOfficial) February 6, 2023
Tweet a beautiful message for our #ShivRit use #ShivRit in your tweets!!!!…. Without #NimritKaurAhluwalia ShivRit is incomplete. #ShivThakare now we all are rooting for you… Get that Trophy home. NIMRIT WON HEARTS Definitely… pic.twitter.com/8y1Hgcy5pB

— 𝐓𝐄𝐀𝐌 𝐒𝐇𝐈𝐕𝐑𝐈𝐓 𝐎𝐅𝐅𝐈𝐂𝐈𝐀𝐋 (@ShivRitOfficial) February 6, 2023
A Pure Heart Is A Spotless Mirror In Which Images Of Infinite Beauty Are Reflected
"Nimrit Won Hearts"#nimritkaurahluwalia@colorstv @endemolshineind@voot@vootselect#BBQueenNimrit #Teamnimrit #NimritIsTheBoss #nimritinbb #biggboss16 #BB16 #nimritinbiggboss #nimritinbb #nimrit pic.twitter.com/QQPgTpB1ue

— Nimrit Kaur Ahluwalia (@NimritAhluwalia) February 6, 2023
End Tak Ek Dusre ka Hath nehi choda.Bht logo ne kosish ki #ShivRit ka bond todne ki par koi kamyab nehi ho paya.We will miss you both.Nimrit You deserves to be in Top 5. My heart is crying I can't describe it in words. Always rooting for you both #NimritKaurAhluwalia #ShivThakare pic.twitter.com/paSn7AzKzf

— 𝐓𝐄𝐀𝐌 𝐒𝐇𝐈𝐕𝐑𝐈𝐓 𝐎𝐅𝐅𝐈𝐂𝐈𝐀𝐋 (@ShivRitOfficial) February 6, 2023
Her 1st Interview after her shocking and unfair Eviction ❤🥺 #ShivRit #ShivThakare #NimritKaurAhluwalia pic.twitter.com/oCCBJgejpd

— 𝐓𝐄𝐀𝐌 𝐒𝐇𝐈𝐕𝐑𝐈𝐓 𝐎𝐅𝐅𝐈𝐂𝐈𝐀𝐋 (@ShivRitOfficial) February 6, 2023
Since initial days Rangu gaining trp from Nimrit n
Are actually side is edited from epsds
Again promoting her for your good
Own sake no game

Manifesting Real Contestant win BB16 – Haq se

and end of BB seasons Forever! #NimritKaurAhluwalia
NIMRIT WON HEARTS https://t.co/ktyhHn850Z

— 𝓐Ş𝕙 (@Aish_AK47) February 6, 2023
Still weeping,my hands are shivering,mind freezed,heart is aching…its taking toll onto my emotions…
They've made me feel too much of it.. can't handle this.. don't know how to handle their separation…I'm not ready for it..#ShivRit in my head.. 🥺🤍 #NimritKaurAhluwalia pic.twitter.com/bqB48Vub0D

— MoRan 💞Shaveri ko new show dedo🤧😭 (@MoRanMyworld) February 6, 2023